Where We Work
Sub Saharan Africa carries the highest global burden of HIV/AIDS and TB. South Africa is among the countries of Sub Saharan Africa with greatest number of cases and highest rates of these diseases, with devastating effects on individuals, families and communities.  Tugela Ferry, an impoverished traditional Zulu area in rural KwaZuluNatal Province, South Africa, is the global epicenter of the convergence of the epidemics of HIV/AIDS and TB and the recently described third epidemic of rapidly fatal MDR and XDR TB.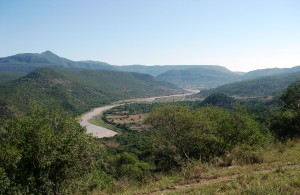 Our work is based in Tugela Ferry, a small town in the rural Msinga area of KwaZulu-Natal (KZN), 2.5 hours north of Durban and is representative of other communities in rural South and sub-Saharan Africa.    Tugela Ferry gets its name from the uThukela River which flows from the Drakensburg Mountains to the Indian Ocean. In early days, travelers would come to Tugela Ferry to cross from one side of the river to the other. This ferry has since been replaced by a single lane bridge which meets the town's main street on the shore. The surrounding topography is harsh: mountainous, semi-arid, and rocky. Apart from the small central village of Tugela Ferry, the population is widely dispersed, living in isolated family compounds.
The area is comprised of  ~2000 sq kilometers and is home to ~180,000 mainly Zulu speaking people. It is one of the three poorest districts in South Africa. Women comprise 57% of the population; 25% of the community has no formal education, 55% are unemployed, with 40% dependent on meager social welfare grants, and there is little access to piped water (1%) or electricity (25%). HIV prevalence is high,(37% among women receiving antenatal care).and the incidence of TB is approximately 1,100 per 100,000 population with more than 70% of TB cases being HIV co-infected., both among the highest rates in the world.
Health care is provided by the KwaZulu-Natal Department of Health and is centered at the government district Church of Scotland Hospital (COSH), which provides medical, pediatric, obstetric, gynecologic and surgical services, outpatient care and support to 16 primary care community based government clinics. Care is supplemented by Philanjalo, a local Tugela Ferry based and effective South African NGO.
---